Wondering what is the best way to choose NJ Coffins? Choosing a coffin for your loved one can be a challenge during this difficult moment. At Casket Emporium, we help you all the steps to take when planning a funeral. A funeral director would be able to help you choose the best one. There are a few things you should consider when choosing a coffin.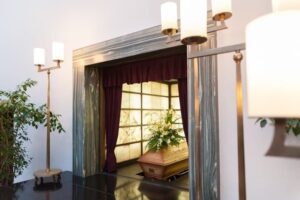 NJ Coffins | Material
One of the things you need to decide on is what type of material you want for your coffin. Coffins are made of different types of materials. For example, it can be made of wood or metal. The type of material the coffin is made of depends on the type of service you want. The size of the coffin is also important. Knowing the weight and height of your loved one will help in choosing the right coffin. There are also coffins called, "Eco Coffin" which are made for woodland burials. These coffins have consideration for the environment. They are also biodegradable coffins that can be used when planning a funeral for your loved one.
NJ Coffins | Styles
A typical funeral coffin is used for both burial and cremation. They come in different colors and materials. You can customize the coffin for your loved one. It can be a specific color. The handles on the coffin or casket can vary in style and color. Coffins made of solid wood are usually traditional. They come with special carving and cushioned lining inside. Prices can vary depending on the sophistication of the carving done. A metal coffin is usually more expensive. Metal can be stainless steel, bronze, or copper. Some people feel that metal coffins do not allow the body to naturally decompose. Choosing the right coffin for your loved one can be tricky.
NJ Coffins | Additional Material
Some coffins come in chipboard which looks the same as a traditional wooden coffin. This is a lower-cost alternative to a solid wood coffin. A biodegradable coffin can include materials like bamboo, wool, or wicker, to name a few. They usually have a similar price as the chipboard coffin. With metal coffins, they are more durable than coffins made of wood. Metal coffins also have a seal to protect any outside elements from coming in. With a bronze or copper coffin, they do not rust and are very durable. Over time, they do oxidize, yet they are the material that is the longest lasting. Bronze and copper coffins are the most expensive.
NJ Coffins | Coffin or Casket
The difference between a coffin and a casket is very little. Caskets are usually larger and more rectangular with four sides than a traditional coffin. Caskets because of their shape allow for the opening of the top section during a funeral service. Coffins have a hexagon or octagon shape. They have flat lids that can be lifted during a funeral service. Coffins have handles where caskets have rails for carrying. Overall, the differences between a coffin and a casket are shape, design, and price. It is best to discuss your preferred choice with a knowledgeable funeral home or coffin expert company.
Searching for the best NJ Coffins company? Give Casket Emporium a call today! We are a family-owned company. We have locations in NY, NJ, PA, and CT. At Casket Emporium, we will personally deliver caskets and coffins to where the services will be. We are also here for any funeral-related questions you may have. With over 20 years of experience in the industry, we know where and how to save families money on all types of funeral arrangements. Give us a call today and let us help you in this most difficult moment.
Best Priced Caskets in NJ, NY and PA
Related Posts: